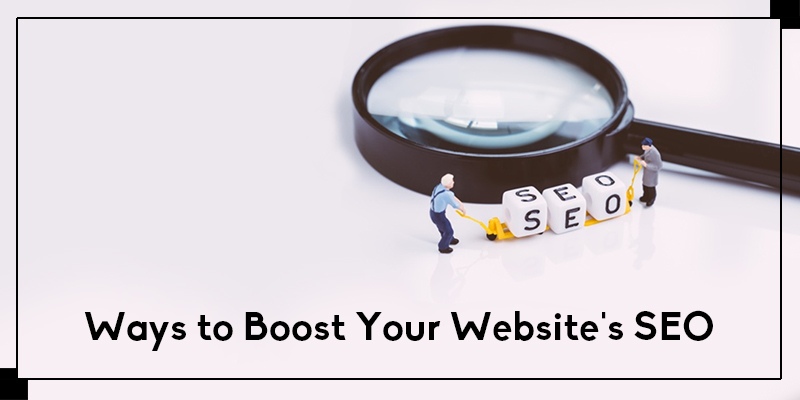 Ways to Boost Your Website's SEO
SEO stands for search engine optimization, it basically helps your website gets rank higher in search results so that you can get more traffic on your website. Well, managing SEO is crucial but it's not an easy task. You should have proper knowledge about SEO and a clear vision about what will be your next move. In this article, we will look at the ways to boost a website's SEO so that you can get more viewers to see your work.
Optimize Your Photos
Almost every website is filled with a bunch of images as they keep the audience engaged, but if your images are not optimized for web presentation, they can slow down your website very badly. If your website slows down, it will take a longer time when loading, which means your site's rank will ultimately go down in Google searches. So while uploading an image on your website, you have to be very careful. Don't upload images larger than 2,500 pixels, or megabytes in size.
Add Alternative Text
Another way to rank up your website in Google Search is to add alternative text to your images. The alternative text basically helps Google know what content your photo has so that Google can catalog your content in its search results. Despite this, you can even describe your image in up to 125 characters, try to use keywords as well while describing your images. Make sure, you don't use the same keywords for every image, it might affect the performance of your website.
Titles and Descriptions
Titles and descriptions are very important as Google as well as other search engines use them to identify your content and present them to viewers. So while writing titles or descriptions, you have to be very precise and clear. Make sure your titles should contain between 30 and 60 characters, and descriptions between 70 and 140 characters.
Add Description to Your Homepage
If your website contains only images and not texts, then it's high time you added some written copy on it. Describe what you do, what's the purpose of your website, and a preview of your work. So that people who visit your page can understand what you do. In spite of it, the description will help to boost the tank of your website in the Google Search results.
Fix Broken Links
Pages on the internet are never stable, they continuously move around that can leave your website with broken links, especially the older blogs. Keep in mind that the more broken links your site has the lesser page ranking your site will have. So fixing broken links is crucial in order to keep your website in good condition. In order to find broken links on your website, you will have to use Dead Link Checker, an online tool.
Maintaining a website is crucial and we strongly recommend you follow the above-mentioned tips so that your website can get more engagement. Thank you for reading the article.